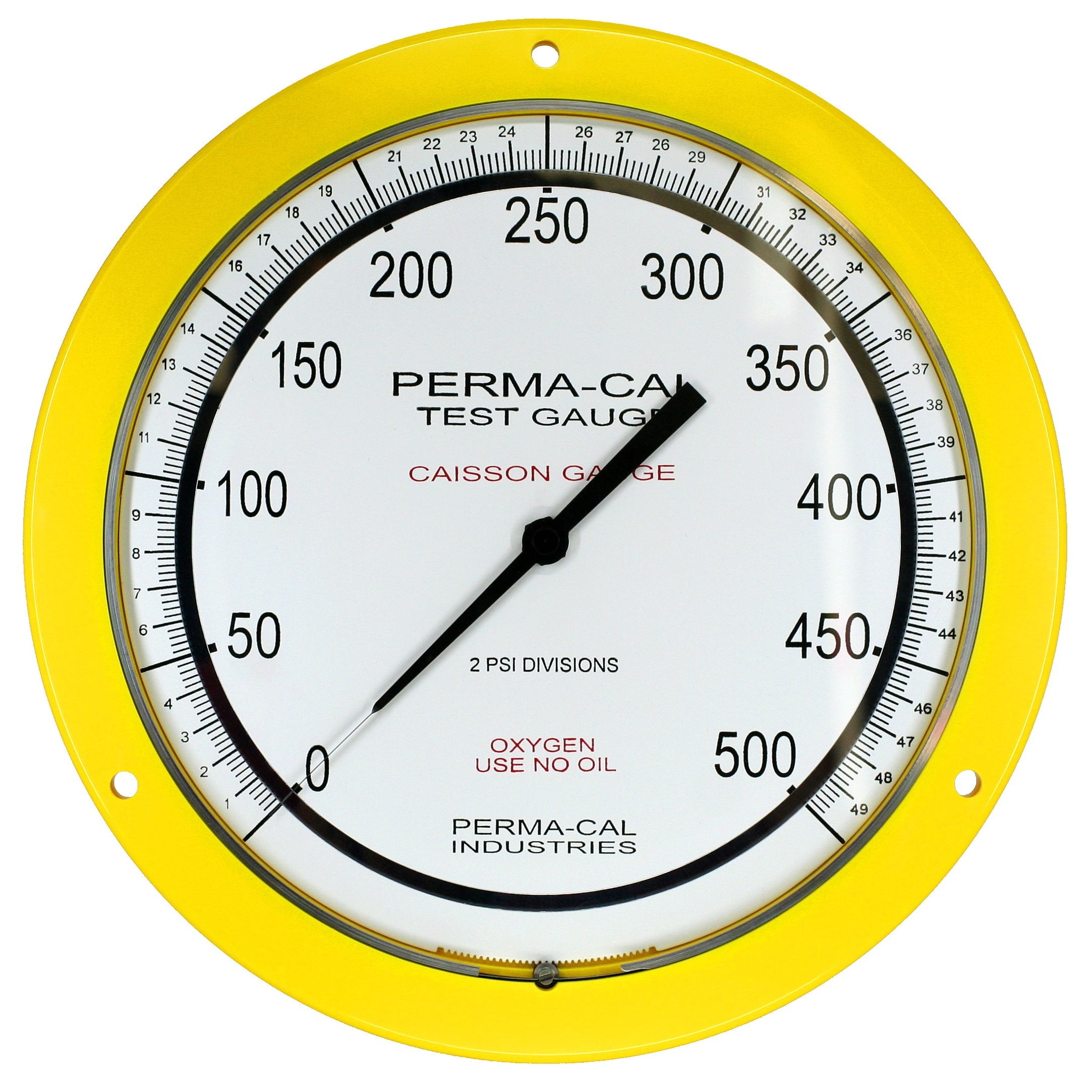 Caisson Gauges
IDEAL FOR USE IN HYPERBARIC CHAMBERS
ENDURANCE AND REPEATABILITY
Inconel X-750 + Helical Bourdon Tube = DURABILITY
An Inconel X-750, Gearless, Helical Bourdon Tube provides repeated cycling without fatigue. Additionally, no linkages, springs or gears means there are no mechanical components to wear or break.
TRUSTED ACCURACY
Accuracy is 25% less affected by temperature fluctuations.
Inconel Elastic Element = Low Coefficient of Thermal Expansion
Inconel in combination with a low internal volume means that the impact of temperature on accuracy is significantly less than competitors using a Stainless Steel Bourdon Tube.
USA PARTS, USA MADE, USA OWNED
Manufactured in Minden, NV using only American made parts. Manufacturing processes not completed in house are outsourced to support local small businesses.
LIFETIME LIMITED WARRANTY
Lifetime warranty that the Bourdon tube will not malfunction due to wear.
1 year from delivery or 18 months from date of manufacture against defects in materials and workmanship.
TYPICAL APPLICATIONS
Perma-Cal® caisson gauges incorporate a Helical Bourdon Tube sealed within a capsule.
Unlike standard pressure gauges which indicate the pressure relative to the ambient environment, Caisson Gauges indicate the pressure relative to the pressure within the capsule.
Hyperbaric chambers

Decompression chambers and more...
ACCURACY
±0.25% of F.S. (Grade 3A)
For details see accuracy specs page
RANGE AVAILABLITY
250 to 3,500 FSW (or equivalent)

Single Scale: FSW

Dual Scale: MSW | FSW
Customization available (range, units, logo, etc.)
See dial availability chart for list of standard ranges
OPERATING TEMPERATURE
Media Temperature: -65°F to 250°F
Ambient Temperature: -65°F to 190°F
CASE CONFIGURATIONS
Materials: ABS (acrylonitrile butadiene styrene)
Sizes, Types and Colors:
6", 8.5" Dial

Front Flange, No Flange, Rear Flange

Black, Blue, Green, Red, White, Yellow
Solid Front Case Design
QUALITY MATERIALS
Wetted Parts:
Inconel X-750

300-series SS

Silver Braze
Connection Material: 316 Stainless Steel
Window Construction:
Acrylic

Tempered Glass available
Dial Construction:
Stainless Steel Material, Powder Coated Finish

White Background, Black Markings, Black Pointer
OTHER SPECIFICATIONS
Cleaned for oxygen use
Burst Pressure: 500% F.S. pressure or 25,000 psi
Proof Pressure (over-pressure w/o calibration shift):