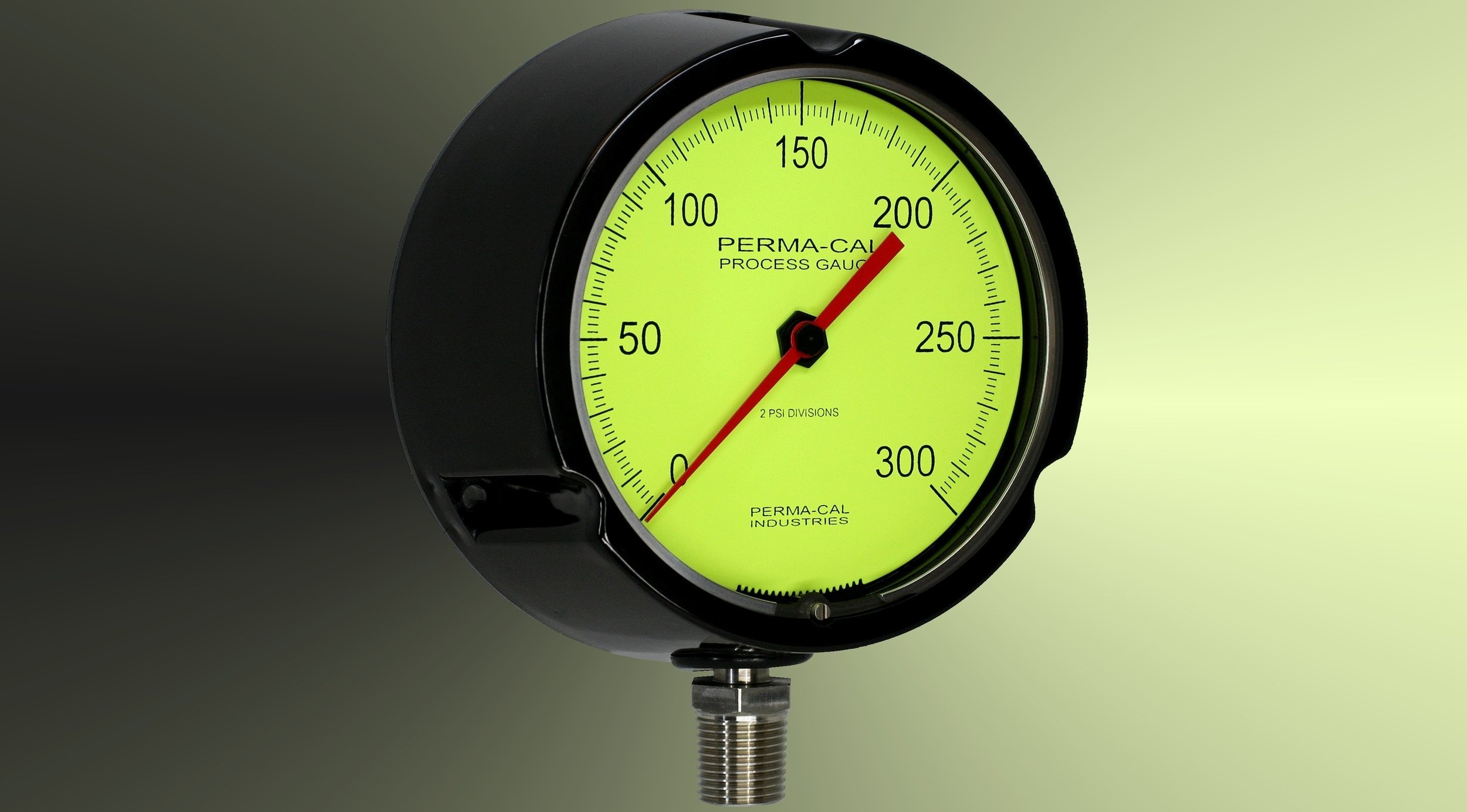 Ray Series Process Gauges
IMPROVED VISIBILITY IN LOW LIGHT AREAS
AEROSPACE QUALITY | MILITARY TRUSTED
Direct Drive is
demanded

on critical applications.

The same military grade Direct Drive technology used in our Aeropsace and Military designs, is used in our industrial gauges for commercial applications. Ideal for land, air, sea, and space.

The U.S. Military recognizes the durability advantages Direct Drive provides and requires it on their most demanding applications.
LIFETIME LIMITED WARRANTY
Lifetime warranty that the Bourdon tube will not malfunction due to wear.
1 year from delivery or 18 months from date of manufacture against defects in materials and workmanship.
Advantages
IMPROVED VISIBILITY IN LOW LIGHT
Neon Dial + Red Pointer = High Contrast
High contrast features improve readability in any environment, especially those in low light areas.
ONE MOVING PART
Unmatched vibration, pulsation and shock performance.
Helical Bourdon Tube = Gearless, Direct Drive = DURABILITY
No linkages, springs, gears, or liquid fill to wear, break or leak. Unique, internal pointer dampening reduces pointer flutter without the negative consequences of liquid fill.
OOPS! PROOF
Proof Pressure (over-pressure) of 150% F.S. exceeds industry standards.
Survives the day to day beatings of an industrial environment in addition to the accidental drop, channel lock tap or the surprise pothole. Additionally, where vacuum can sometimes damage a C-tube gauge, Direct Drive is unaffected.
TEMPERATURE HERO
Trusted in extremes from -65°F up to 600°F media. Accuracy is 25% less affected by temperature fluctuations.
Inconel Elastic Element = Low Coefficient of Thermal Expansion
Inconel in combination with a low internal volume means that the impact of temperature on accuracy is significantly less than competitors using a Stainless Steel Bourdon Tube. High-Temp solutions available which bring operating temperatures up to 400°F Ambient / 600°F Media.
MINI-SEAL COMPATIBILITY
Requires 85% less fill fluid than the competition. Accuracy is 50% less affected by temperatures above 68°F (20°C)
Low volume design enables performance on mini diaphragm seals. This can provide significant performance and cost advantages vs. competitors.
USA PARTS, USA MADE, USA OWNED
Manufactured in Minden, NV using only American made parts. Manufacturing processes not completed in house are outsourced to support local small businesses.
Ray Series Process Gauge Specs
TYPICAL APPLICATIONS
Ideal for use in areas where improved visibility is required and a process gauge is being used, especially those experiencing vibration, pulsation and shock.
Industrial, Energy & Power Plants

Wastewater Treatment Facilities

Pump Applications

Welding Gas Filling Stations

Steam Pipes

Oil & Gas Pipelines

Chemical Plants

Manufacturing Facilities

Refineries, and more...
ACCURACY
±0.5% of F.S. (Grade 2A)

±0.5% F.S. at M.S. / ±1.0% F.S.
For details see accuracy specs page
RANGE AVAILABILITY
Vacuum - 15,000 psi

Units: psi only

Types: Single Scale, Vacuum and Compound
Customization available (range, units, logo, etc.)
See dial availability chart for list of ranges
OPERATING TEMPERATURE
Media Temperature:
ABS: -65°F to 250°F

GFN and Metal: -65°F to 600°F
Ambient Temperature:
ABS: -65°F to 190°F

GFN and Metal: -65°F to 400°F
CASE CONFIGURATIONS
Materials:
ABS (acrylonitrile butadiene styrene)

Aluminum

Stainless Steel

GFN (glass-filled nylon): High-Temp Yellow Turret
Sizes, Types and Colors:
4.5" Dial Standard

Front Flange, No Flange, Rear Flange, Turret Style

Black, Blue, Green, Red, White, Yellow
Metal Case Finish: Powder Coated or Unpainted
Solid Front Case Design
Other options available (size, color, etc.) Contact sales.
QUALITY MATERIALS
Wetted Parts:
Inconel X-750

300-series SS

Silver Braze (nickel braze available)
Connection Material:
316 SS standard (Monel available)
Window Construction:
Acrylic

Tempered Glass (increases heat tolerance)
Dial Construction:
Stainless Steel Material , Powder Coated Finish

Neon Background, Black Markings, Red Pointer
OTHER SPECIFICATIONS
Burst Pressure: 500% F.S. pressure or 25,000 psi
Proof Pressure (over-pressure w/o calibration shift):
150% of F.S. for gauges ≤ 5,000 psi or equivalent

125% of F.S. for gauges > 5,000 psi or equivalent
Internal pointer dampening (reduces pointer flutter)